ABOUT US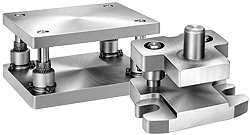 "Diemech" a company with 35 years of experience in sheet metal industry catering to small and large die shops, in toolroom and stamping industry generally, offers die set under a general heading of "accuracy". Becauase "Diemech" ball bearing Die Set is so accurate that there is less die wear, less scrap, less chance of seizure. These are profit Factors.
We take utmost care in the selection of materials and manufacture of Pillar Die Sets. The Die bolsters are made from heavy duty Castings (Grade- 17) free from blow holes and are of closed grained structures duly machined, ground and jig bored accurately. We also manufacture Die bolsters from Mild Steel material to customers specifications
"Diemech" also offers Mould Bases for plastics industry. We manufacture standard Mould Bases to meet the exacting demands of mould makers. We have been making high quality Mould Bases that assures reliable mould performance and increase your productivity.